February 18, 2009
64 Views
The Arrive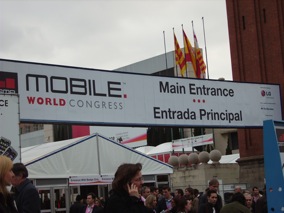 The arrive in Barcelona (Monday) this year is quite different from the past, in Barcelona and Cannes too. Crisis feeling starts at the entrance, no more free metro tickets available, no more fruit and biscuit in the media lounge …
The first place I attended was the GSMA & Industry CEOs @ Mobile World Congress Press Conference, where was present several CEOs such as: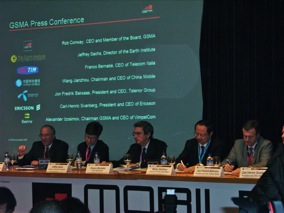 Rob Conway, CEO of the GSMA
Alexander Izosimov, Chairman of the GSMA and CEO of VimpelCom
Wang Jianzhou, Chairman and CEO of China Mobile
Jeffrey Sachs, Director of The Earth Institute and Special Advisor to United Nations Secretary-General Ban Ki-moon
Jon-Fredrik Baksaas, President and CEO of Telenor
Carl-Henric Svanberg, President and CEO of Ericsson
Franco Bernabè, CEO of Telecom Italia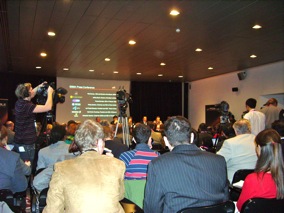 The discussion was about how to sustain growth in economic situation, they set out how the wider use of mobile broadband services can stimulate growth and help the world recover from the economic crisis. Wang Jianzhou, CEO of China Mobile, spoke about the investment in mobile infrastructure that his company is making in China and its benefits.
The release of new spectrum for mobile broadband services in 2009 will ultimately add the equivalent of $211 billion to China's GDP, and could add the equivalent of $95 billion to India's GDP(1), according to a new report by Professor Leonard Waverman and consultancy LECG for the GSMA, which represents the global mobile industry. The rollout of mobile broadband networks will create hundreds of thousands of jobs, encourage new businesses across the value chain, improve productivity and boost consumer spending.
As the mobile industry is one of the few parts of the private sector currently capable of providing an economic stimulus, governments need to ensure they adopt policies that encourage more investment in mobile services and networks. Wherever possible, governments should seek to create a stable regulatory environment, while licensing spectrum on the right terms to encourage spending on network infrastructure and services, stimulating economic growth.
It is also important that governments allocate the same spectrum as other governments in their region for mobile broadband services – this kind of harmonisation will allow the same devices to be used in many different countries and enable manufacturers to achieve economies of scale and lower prices for end users.
The switchover to digital television will present a once-in-a-generation opportunity to make low-frequency spectrum, in which radio waves travel long distances and better penetrate the walls of buildings, available for mobile broadband services. Of the 400MHz of low-frequency spectrum freed up by the switch-off of analogue television, the GSMA believes 100MHz should be used to enable the roll out of cost-effective mobile broadband networks.
Deploying a mobile broadband network using 700MHz spectrum, for example, can cost 70% less than deploying the same network using the 2100MHz spectrum underpinning most of today's 3G mobile networks, making rural areas and other "white spots" economically viable to serve. Moreover, providing mobile broadband coverage is far more cost-effective than installing a new fixed-line broadband connection(2).
Supporting Quotes
"For mobile broadband to be a mass-market service worldwide and powerful engine of economic growth, the mobile industry needs both a stable regulatory climate and access to the right spectrum on the right terms," said Rob Conway, CEO and Member of the Board of the GSMA. "Wherever possible, governments need to allocate the same chunks of spectrum as other countries in their region, enabling equipment manufacturers to gain economies of scale by producing mobile broadband handsets, computers and other devices that will work in many different markets."
"If the mobile industry can continue to grow and develop at the rate it has over the past 15 years, it could act as one of the few locomotives which can help pull our economies out of the current slump," said Alexander Izosimov, Chairman of the GSMA and CEO of VimpelCom. "Governments need to adopt policies that nurture this potential, rather than stifling it."
"The rolling out and operation of 3G networks in China will create 300,000 job opportunities directly and indirectly," said Wang Jianzhou, Chairman and CEO of China Mobile. "On the one hand, 3G investments will directly boost the development of the telecom manufacturing industry; on the other hand, 3G handsets and 3G applications will drive consumer spending and help companies through the difficulties brought by the financial crisis."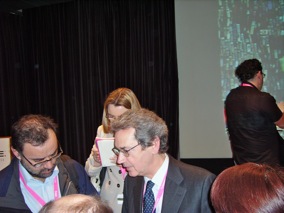 "The evolution of mobile broadband is proof that capital expenditure by operators lays the foundations for the growth of an entire ecosystem," said Franco Bernabè, CEO of Telecom Italia. "In the currently uncertain economic climate, it is simply unimaginable that we will enter a new phase of European and worldwide growth if we do not have sufficient availability of bandwidth. Bandwidth is the necessary driver for direct investments such as radio access infrastructure and demand for fibre-optic backhauling; it is also a driver of indirect investment, through the emergence of new market players and new services. If we wish to repeat the successes of the past – successes in technology that, from GSM onwards, have made improvements to our lives – this potential may only be realized fully within a harmonious regulatory context."
"Our industry and the authorities must work together to find sustainable business models for mobile broadband," said Jon Fredrik Baksaas, President and CEO, Telenor Group. "If we get this right, mobile broadband will have the same deep changing impact on people's lives as basic mobile services have had."
"Mobile broadband is essential for socio-economic growth and, with LTE, the industry has, for the first time, a true global standard," said Carl-Henric Svanberg, President and CEO of Ericsson. "The deployment of mobile broadband is also particularly important for closing the digital divide and the allocation of low frequency spectrum is a prerequisite."
"Mobile technologies are the most powerful tools we have for combating extreme poverty in the most isolated parts of the world," said Jeffrey Sachs, Director of the Earth Institute. "By closing the digital divide, mobile connections give the poor access to vital health services and students from all parts of the world a chance to learn through "global classrooms." Similarly, mobile phones are being deployed to expand agro-business, e-governance, banking, and commerce throughout poor countries. Private companies are taking in the lead in countless creative and path-breaking efforts, and these breakthroughs are being expanded rapidly through public-private partnerships. Digital technologies will play a core role in ending poverty and in enabling the world to join together through markets, social networks, and cooperative efforts to solve our common challenges."
---
In the mornig of the day after (
Tuesday
) three mobile operator leaders faced the question at  morning's opening keynote session at the GSMA Mobile World Congress of whether to put the brakes on any future investments or expansion, or adopt new methods of continuing to grow during these uncertain economic times. The answers from César Alierta, executive chairman of Telefónica, Vittorio Colao, CEO of Vodafone, and Jon Fredrik Baksaas, president and CEO of Telenor were in accord – that mobile telecoms will be a key driver behind the economic recovery and the industry must not slow down its growth plans.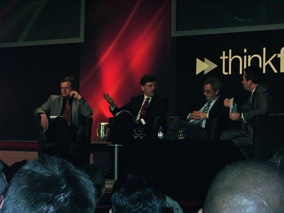 "We are the perfect ally for governments to lead global economic growth," said Alierta, "and there is an unclear estimation of our ability to improve the economic situation." Central to this perspective was that mobile operators must deliver what the customer wants. "Our success will come from providing the consumer with a much better experience based upon providing value," said Alierta. This theme received support from Vodafone's Colao, who said that operators have many of the essential assets to deliver customer value. "These are a combination of affordability, trust, ease-of-use and relevance, together with speed and ubiquity. We must also be smarter in how we co-operate with content suppliers, device vendors and equipment manufacturers." Looking at the investment options, Colao warned about putting the brakes on. "We should have a common technology roadmap, and look more closely at sharing towers and possibly fibre." However, he warned about the need for a level-playing field with regard to competition. "We should not ask for protection, this might lead to short-term gains, but it undermines trust."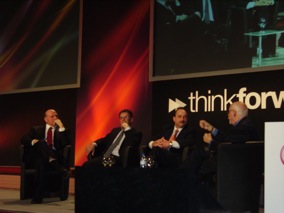 Then Steve Ballmer was participating in the panel discussion on the "open mobile ecosystem", alongside Nokia chief Olli-Pekka Kallasvuo and AT&T head Ralph de la Vega, who used the occasion to inadvertently announce Dell's imminent smartphone.
"Open means different things to different people," Ballmer said. "To some people, open means open source. It means more than that and different than that to me. Open can mean an open platform that people can extend, or it can mean open standards that are baked in. Ultimately the companies that succeed will be open, maybe in different ways and at different times."
To Ballmer, "open" refers to "the power and success of the partner ecosystem approach [that Microsoft] pioneered at the beginning of the PC revolution".
---
NFC & QR Code status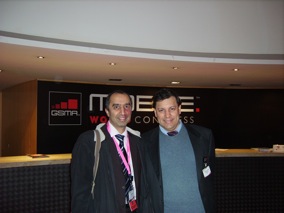 NFC and QR Codes remains the most important stuffs on mobile handset next years I had a long interview with Nav Bains (soon podcast on this site) about status of Pay buy Mobile initiative, and then I met Martin Copus, president of 3GVision, he told to me what announced today that its i-nigma code reading solution has been selected by Pannon (owned by leading Norwegian network operator Telenor) and T-Mobile to power their 'Mobilkod' mobile code trial project, in collaboration with Hungary's leading publisher, Sanoma Budapest.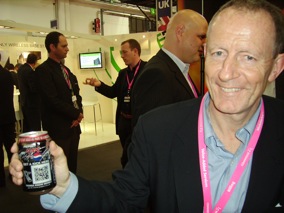 ---
A lot of person did manifest out of the congress during these couple of days, for antennas and electromagnetic pollution, it could exists a more suitable place ?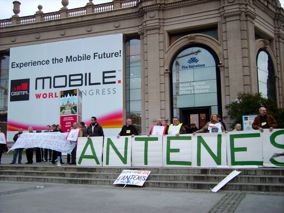 and below Telefonica workers …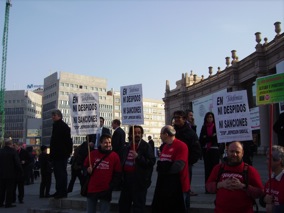 be in touch.