Introduction
worldwide organizations looking at rural zones of our planet such as Africa to cover the digital divide using technology, ITU, belonging to UN, held the second phase of The World Summit on the Information Society in Tunis from 16 to 18 November 2005. The UN Millennium Development goal is driving a lot of resources to Madagascar and World Bank is helping National Banks to create or renew system to cooperate with banks present in the territory. Even if Africa doesn't contain any of the emerging economies such as BRIC countries (Brasil, Russia, India, China) has a lot of law to put in place as well as regulatory amendment in the more interesting scenarios as Mobile Telecommunication and Banks cooperation.
The presence in these areas of World Bank's advisors helping National Central Banks to develop national central systems jointly with telecommunication companies trying to cover the digital divide within territory (using GPRS, WiMax, WLAN, …) they represents the ideal place where to create and experiment interactions between Financial Institution and Telecommunication companies to serve individuals living in rural areas.
The error we might do is that probably we can think scenarios, business model applicable in these areas are far away from our way to live and never will be applicable in our European or North American countries. This could be a terrible mistake since we have a lot a rural zones in Australia, in USA or in Scandinavia and individuals such as teen agers and our son and daughter, interested on the same problematic. They manage few money, often unbanked, often with the phone bill in red and asking for a recharge to mom.
People on stage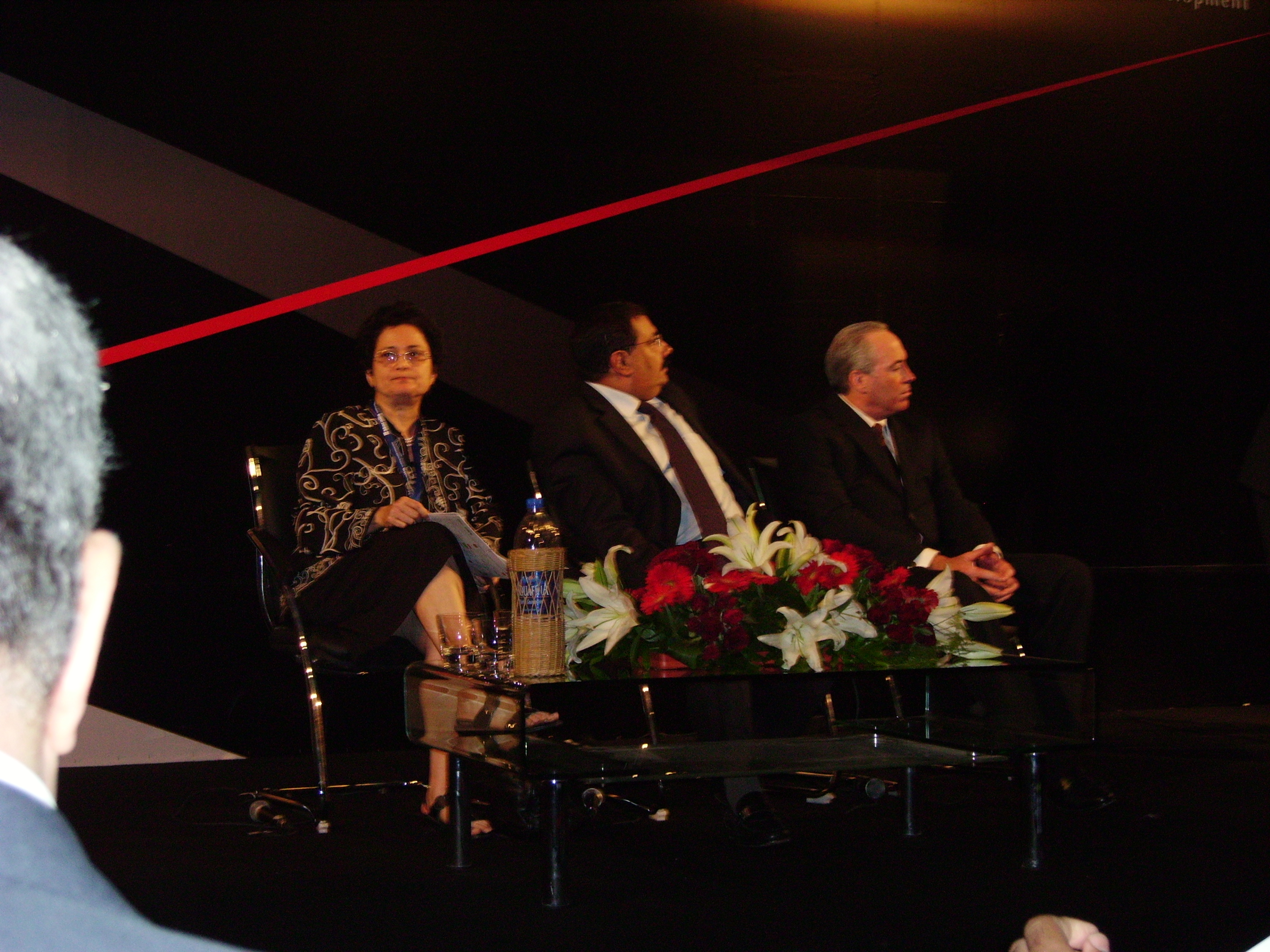 Rob Conway (CEO and Member of the board of GSMA) welcomed the audience and immediately after Farida Khambata (VP of IFC) and Tarek M. Khamel (Minister of communication of Egypt) made the same.
The first day was mainly related to case histories, operators experience and openness, challenges and cooperation with the financial sector. The second was more about regulatory and how to put on the market the models.
About the first day a good panel held late morning about Mobile Money project capabilities.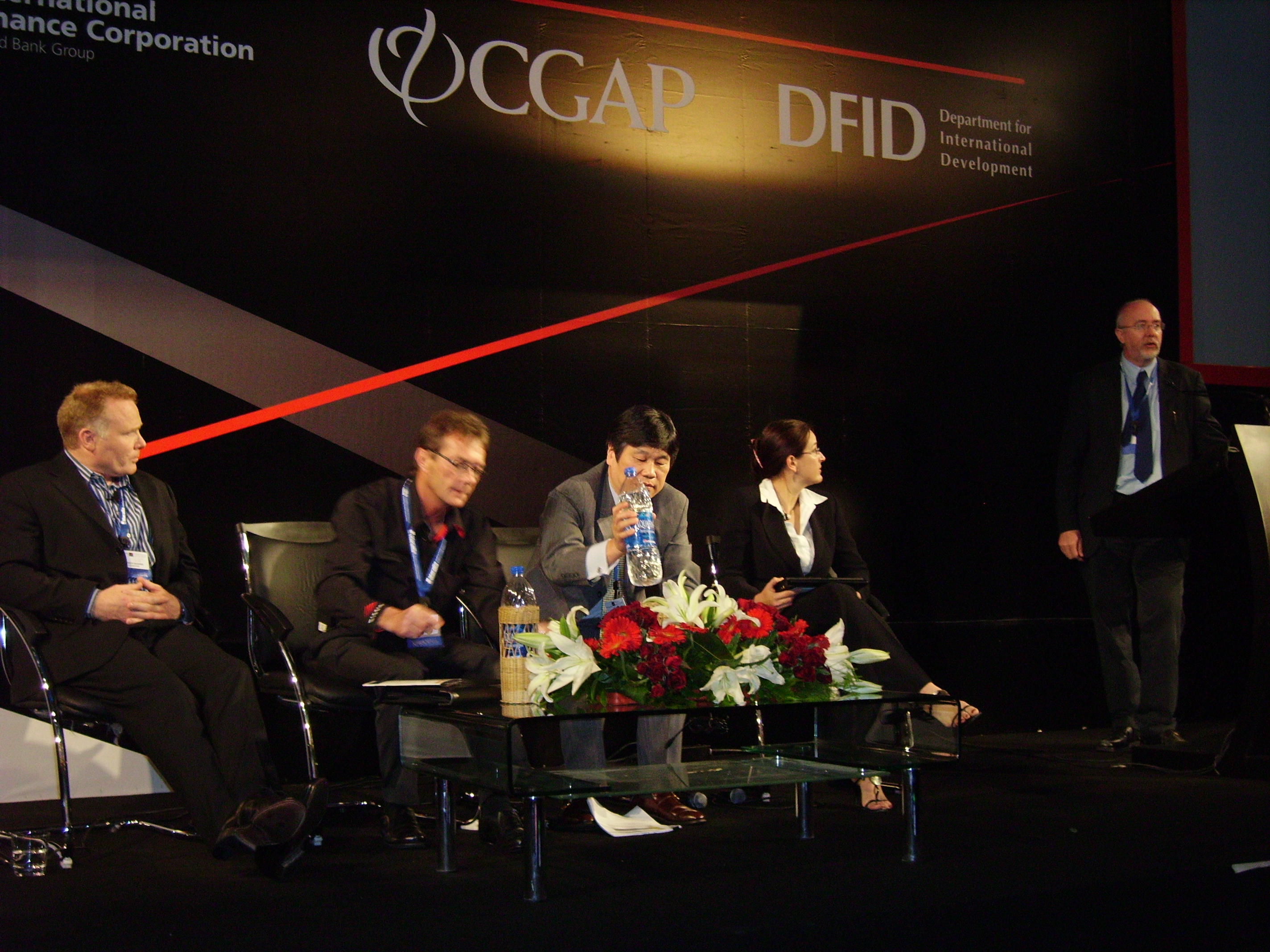 The session has been introduced by a keynote from Nick Hughes (leftmost) responsible for International Mobile Payment solution in Vodafone, he underlined the Vodafone position and how Vodafone present to the market the offer for emerging countries such as M-Pesa in Kenia and the standard one relative to European countries. M-Pesa is a remittance system and a system to transfer money from person living in cities to relatives living in rural countries. The importance of the local store presence also in rural areas make possible to change funds sent by mobile back to cash again. Even if the system has been invented for remittance is widely used by user to avoid bringing cash during the trip; a traveler starting his trip gives the money to a local store close to his village and then takes back his money when he arrive in the city.
This avoids danger of theft during travelling hours , so presence of local store is an important issues and enough effort need to been directed to recruit agents. M-Pesa agents are:
Safaricom dealers, operating one or more outlets around Kenya;
Other retailers with a substantial distribution network like petrol stations, distributors, supermarkets and Registered SMEs;
Selected Banks and Micro-Finance Institutions.
A good experience in term of business propositions and how to reach customers instead has been presented by Brian Richardson – Wizzit (second from left) he underlined the policy to put closer the bank to the un-banked instead to try to bank them. To accomplish this target friends and well known person suggest instead a bank account a SIM jointly with a Maestro Card to withdraw cash from standard ATM. The package that the Wizzit-Boy, so are called the younger black person that propose, contains all needed to start to call but also to transfer money, receive salary disbursement, pay their utilities bills.
Even if Wizzit is a non-bank and M-Pesa is a remittance system both need the same thing, the local presence of an agent close to user in order to promote, acquire customers and facilitate transaction and fix possible malfunctions of the system.
Hiroshi Tamano Managing Director of DoCoMo Europe (third from left) put all the conference in the future, every time we try to compare our world with the Japanese one we recognize how there are ahead with business models, unfortunately for us, not easily replicable in other countries. I-mode is an example but also so deeply integrations in transportation system using Sony FeliCa seems far away from rural areas. Hiroshi shown the involvement in NFC that instead represent a reality even if in our longitudes that will have its boost in 2009, as soon as more handset will be available in the mass market, the same that happened with the camera enabled phone.
While all delegates were arguing about how to fix and how to create a good interaction between Financial world and telecommunication companies Naguib Sawiris presented the Orascom vision and plans about how to deliver mobile financial services.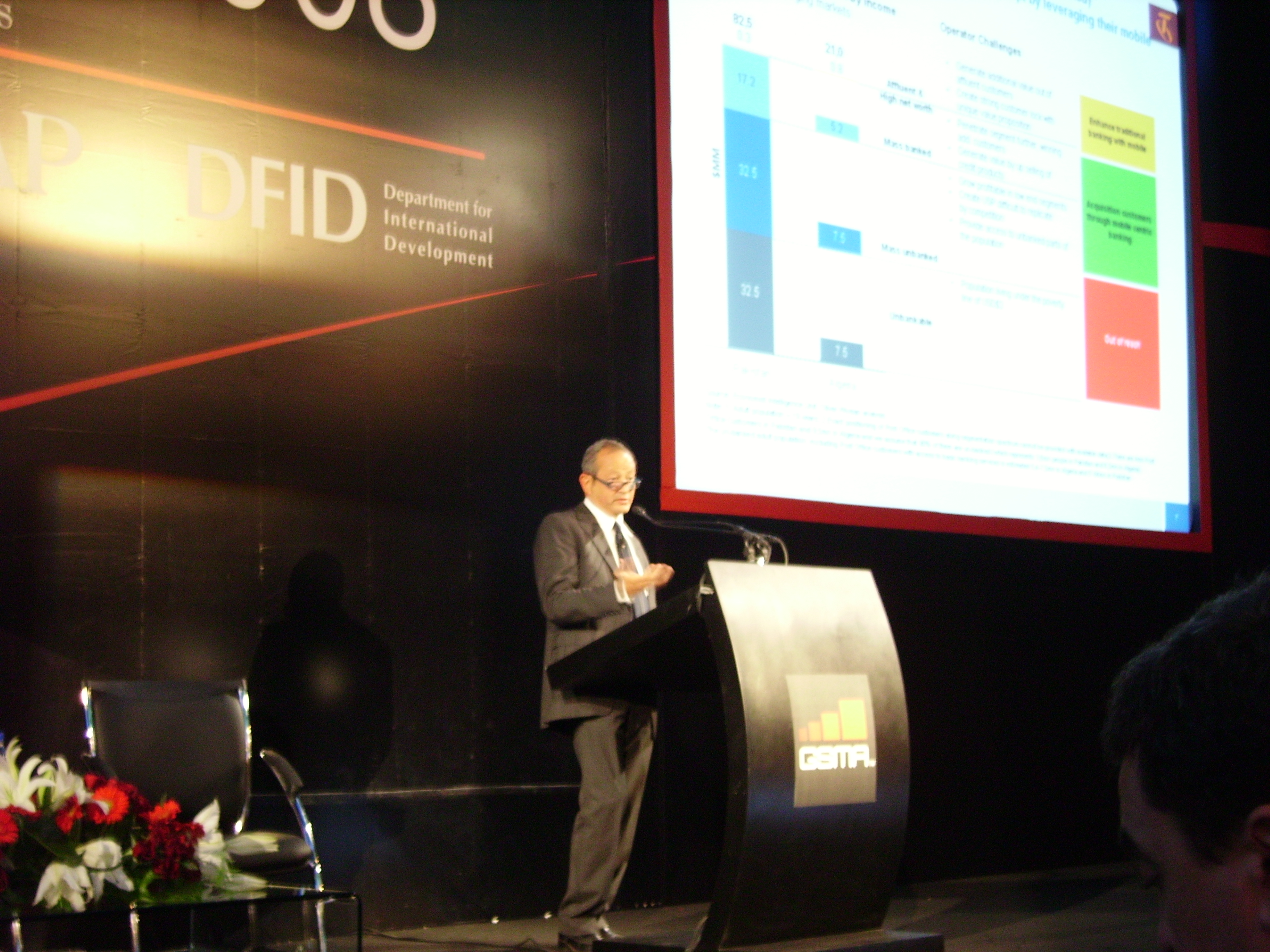 After some joke about Egyptians, he mentioned about people keeping pounds in beds and purchasing cars with suitcases full of cash, he didn't talk a lot about how to fix the querelle on revenue shares, client ownership and regulations on mobile payments but everybody understood that he had already some solution in mind about in order to fix the problem at the root, acquiring a bank for instance.
He underlined what is happening around India (Pakistan & Bangladesh) where no one operators is looking since the ARPU is under 4 US$ but having 30 Million of users the number anyway start to become interesting. Making the match with his declaration last May in Daka during a press meeting "Mobile aside, we have a big desire to invest in other sectors. But at this moment, our interest is mainly in banking sector …" probably underline an interest in a bank acquisition, he added: "We are very much eager to have banking licence in Bangladesh or to acquire any existing bank," Sawiris, who also met Chief Adviser Fakhruddin Ahmed and discussed investment proposals, said, adding, "We would like to introduce mobile banking, money transfer and procurement with the mobile".
The day after started with a Christina Gold (President and CEO of Western Union) keynote where she presented the Money Transfer initiative and the fact that they are working together to develop a commercial and technical framework that mobile operators can use to deploy services that enable consumers to send and receive low-denomination, high-frequency money transfers using their mobile phones.
She also listed the huge presence of their stores World Wide but didn't mentioned at lot about the commission costs of their transaction specifically for remittance.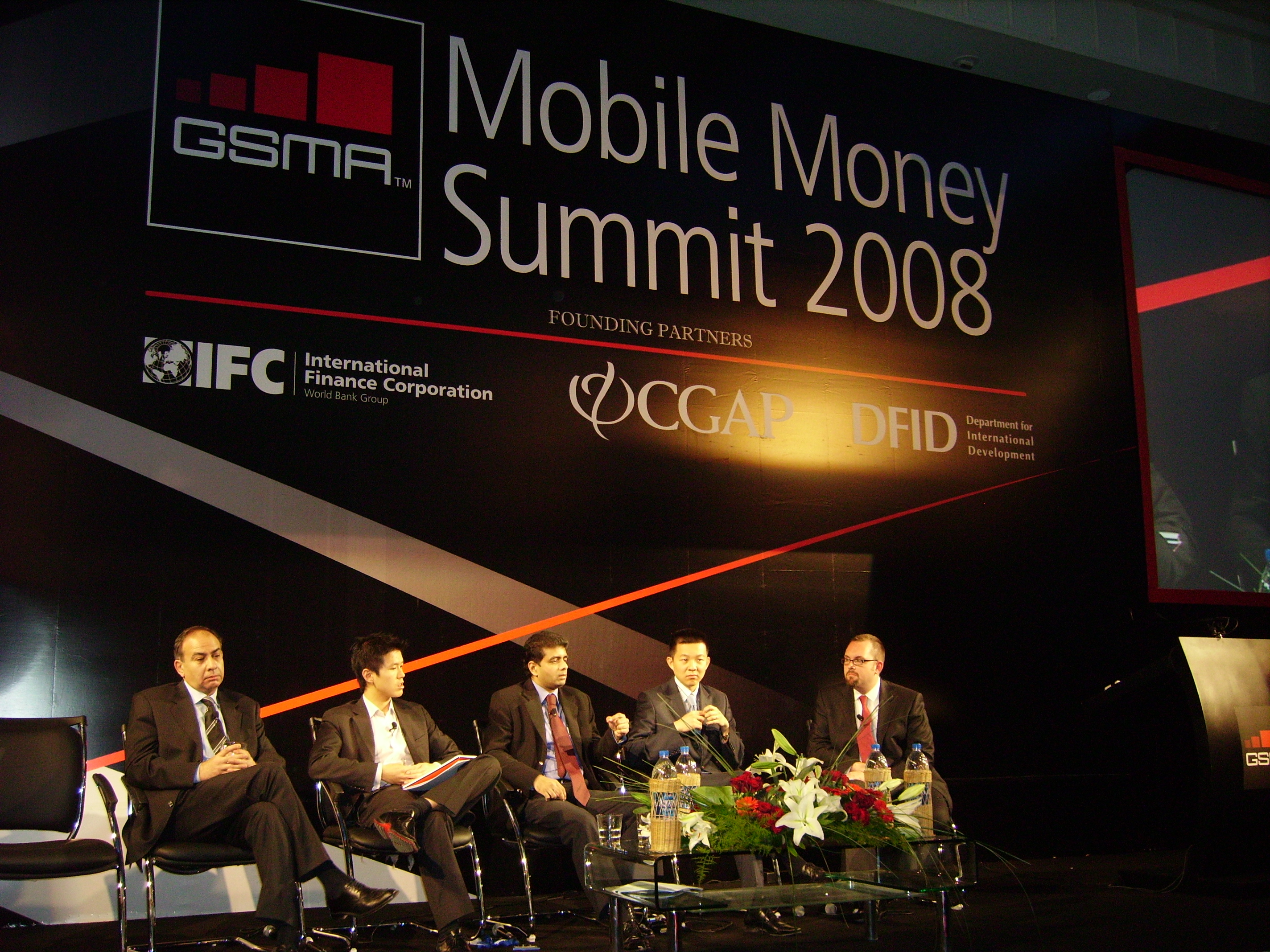 After Wester Union operators took the floor saying their position about the topic, from the left after Alaa Fahmy (Egypt Post), Andy Chung (Vodafone), Hans Wijayasuriya (Dialog Telecom) and Mun-Ki Woo (Orange). They all agree to support the money transfer that sometime reside in a bank sometime in a pocket; since that for few person at the top of the pyramid are stored in bank accounts whilst for all person at the bottom of the pyramid often they are stored at homes and are managed by local merchant.
At the end of the day Money resides always in a bank, even if we used a money transfer service for remittance or some other reasons but the most important issue is how to manage cash-in, cash-out and regulate it. For this Mobile Money Transfer and Pay Buy Mobile initiative within GSMA have important duties to do.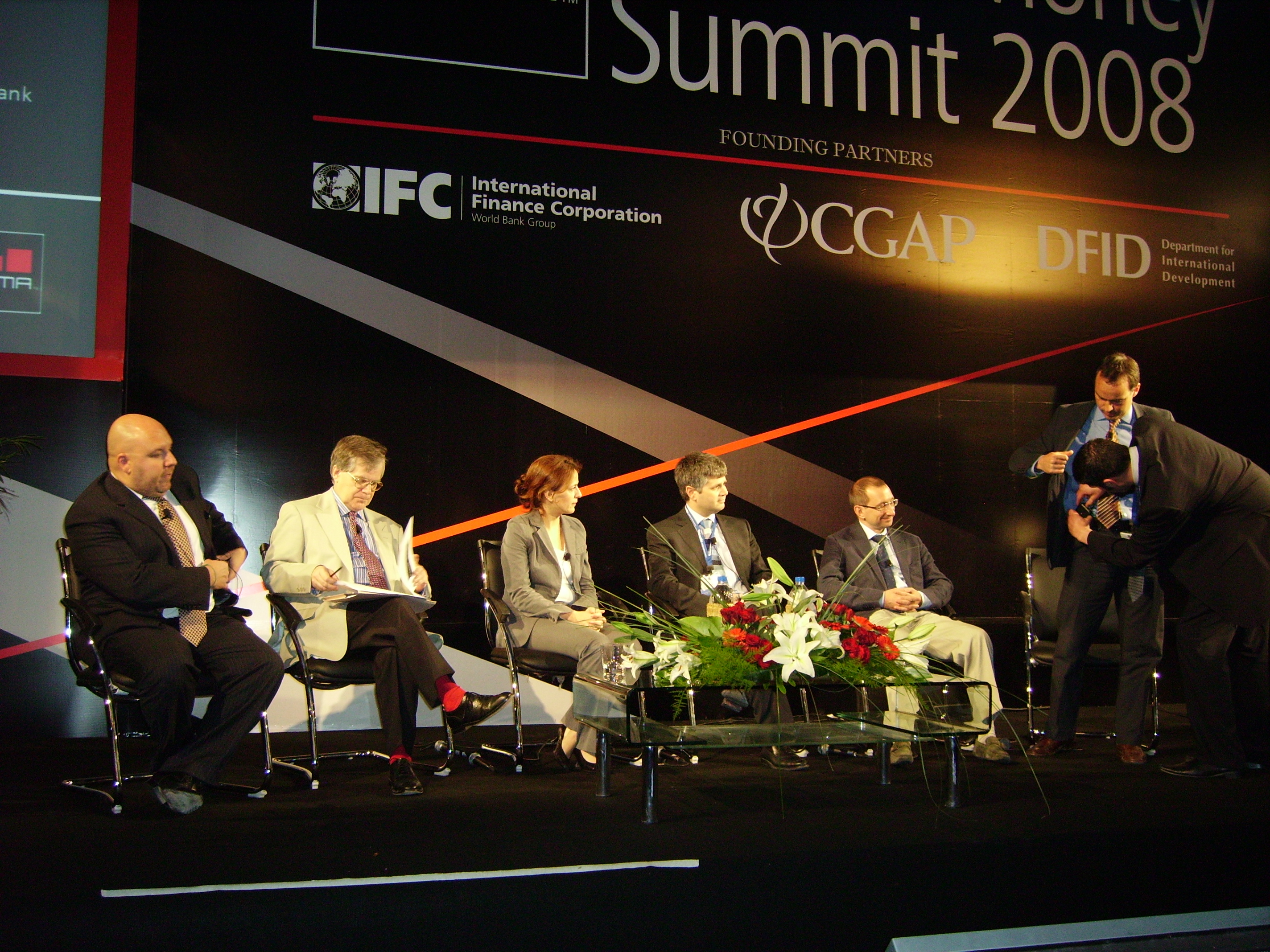 The rest of the day has been spent to discuss about how to regulate this topics without to stop initiative or experiment, in late morning at the panel on the left, were present Electronic Money Association, the UK Financial Services Authority, The World Bank and the regulatory Body of GSMA. They underlined of difference between places in the world, for instance what could happen in Europe with SEPA (Single Euro Payments Area) and PSD (Payment Services Directive), what could be done in Africa or in Far East and so forth.
For sure using cash is a problem and it is a cost, 85% of transactions across Europe are still in cash, some difference appears for instance in Norway the cash usage is around 70% instead in all EEC is around 98%. But looking the numbers the cash cost to manage such transactions could increase from the actual €Bn 45 to €Bn 70 passing from 0,4% to 0,6% of all European GDP.
Of course using more credit cards and mobile and NFC technology to micropay and small transact could help to reduce this cost.
Companies around
The event was for companies and individuals looking to understand what happened around the globe to replicate the same in proper countries with some ecosystems but different actors, few delegate was looking for product to acquire, the stand was mainly for GSMA, IFC and companies giving answers to help Telecommunication companies or Finance department to implement solutions or piece of business chain value to support M-Finance service creation.
Between those a good idea is the Valimo one, an Helsinki-based provider of mobile signature solutions addressing mobile operators, banks and corporate customers.
In the near future solutions embedded on SIM to permit to sign documents or transactions will be the future as well as mobile OTP systems and midlet to crypt text messages.
Conclusions
Huge masses of un-banked and un-connected people in developing countries could easily obtain a connection and the ability to make transaction just with a mobile phone. From the other side banks are able to reach more customers in the urban and rural areas without compromising the quality of service and products in either region. The technology phenomenon enables to achieve one goal: to put closer bank to the un-banked; there are people who have not accessed the benefits of a bank because one is not physically available in their region but probably they don't need a physical branch to cover their needs.
In East Asia 50% of the population: almost 840 million people live on less than 2USD (PPP) per day, these represents the un-bankable, just over there is a lot of mass-unbanked persons and then the mass banked. In Pakistan mass banked are 32.5 Millions and in Algeria they are 7.5 Millions, of course they could be easily reached by M-Finance propositions.
Mostly of what discussed in Cairo is replicable elsewhere we need only to select the right customers and right places of our territory where we can replicate it, this is the challenge.
The closer retailer represents the new crossing road between phone and good it sells knowing better spending & usage behavior of our future customers.
Critical success factors to re(create) such business are:
Good regulation (a payment service is not a Deposit Taking account);

Only need based services & simplicity (Moving money is not a mobile banking functionality);

Use of agents (Distribution is a key success factor;

Security concern, AMC/CFT (Anti Money Laundering /Combating Financing of Terrorism), Fraud, KYC (Know Your Customer), Controlled risk matrix etc.